MOBITRAC / TR-Classic
The MOBI TRAC is an ALL IN ONE amphibious machine, Lake Weed Harvester, Dredger and Excavator specially designed for the maintenance and restoration of waterways, swamps, small harbors, ponds, embankments etc.
The multi-functional Mobitrac is designed to:
Access and maintain waterways, swamps, marshes, ponds & more.
Cut, collect & harvesting submersed aquatic plants like milfoil, Cattails, Bullrush & more.
Excavate dirt, root systems, lilypads, and mud inwater or on land.
Suction dredge silt and muck in even the most hard to reach areas.
Skim toxic algae and even oil spills.
Visit MobitracUSA.com for more information. Download Mobitrac Brochure.
Visit MobiTracUSA.com for more information. You can also visit our Youtube Channel Playlist for the MobiTrac by clicking HERE
Visit MobiTracUSA.com for more information. You can also visit our Youtube Channel Playlist for the MobiTrac by clicking HERE
Weeders Digest is a distributor / dealer for the Mobitrac in the U.S.A & Canada.
Call Weeders Digest 7 days a week for more information! 877-224-4899
The Mobitrac is powered by a 29.1 horsepower Yanmar diesel engine.
Features joystick control for easy operation.
Includes a one-of-a-kind "easy attach" system for quick and efficient tool attachment and change out!
The Mobitrac offer a large selection of tools to get any job done the right way!
Learn more about theMobitrac Attachment Tools HERE
Why buy the Truxor when you can get the Mobitrac for less? Call us to learn more!

Looking for other Lake Weed Harvesting Boats for sale in the United States? Weeders Digest is the leading lakeshore management product sales provider. Along with many other amazing products to kill, remove< and prevent aquatic plants and muck we offer the MobiTrac AND the Eco-Harvester.
The Eco Harvester is not amphibious like the MobiTrac but we have sold dozens around the world with great results! Cut, Pull & Skim aquatic weeds & algae with this compact but efficient harvesting machine. Learn more
Affordable
– One-third the price of traditional harvesters
Eco-friendly
– No chemicals or dredging
Easy to operate
– One-person operation from start to finish
Versatile
– Pulls, cuts, & skims weeds in shallow water
Multi-purpose
– Gathers floating debris and algae
Quality engineered
– Well built & lifetime warranty on hull
Effective lake management
– Uproots aquatic weeds including milfoil
Aluminum hull
– Lighter and rust resistant
Reduced draft
– Operate in as little as 12" of water
Increased capacity
– 30 % additional cubic yards!
Wider Hull
– Improves operational stability!
Hard pipe hydraulics
– Improves durability and design!
Dynamic flow intake
– 95 % effective weed pulling!
Standard components
– Universal repair & replacement parts
Learn more about the Eco-Harvester from Weeders Digest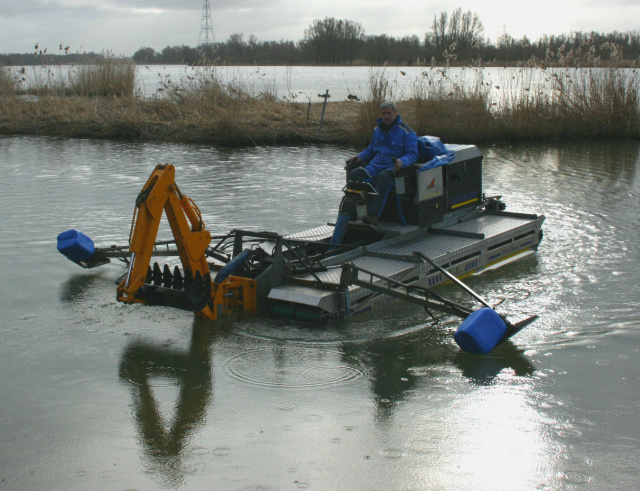 With the Mobitrac you can "Access the Inaccessible" because you can maintain and restore waterways inaccessible by other equipment!
Call to request a brochure, obtain pricing, or schedule a demonstration 877-224-4899 today! www.MobitracUSA.com