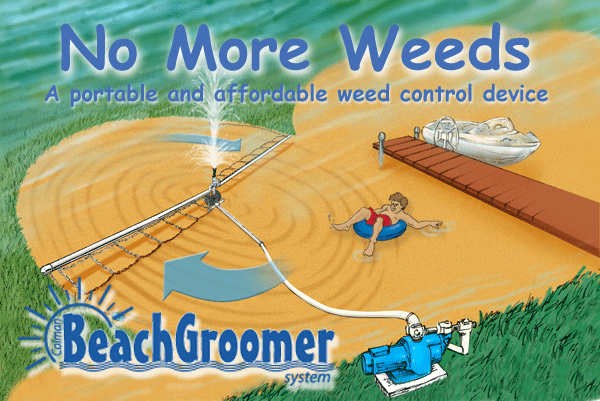 Learn More or Buy Now Beach Groomer
The BeachGroomer is unique from all other weed control devices: It is portable and requires no electricity at the water (we think that is an important saftey factor). The BeachGroomer is the only free standing unit on the market and weighs less than 20 pounds. It can be easily wheeled around your entire swimming area and because it comes with 100' of flexible 1 1/2" hose it offers a wide range of mobility. It costs considerably less than other weed control devices that require electricity at the dock where they are mounted.
DELUXE PACKAGE:

• 2 Seven-foot arm units with galvanized steel chains
• 2 50-foot lengths of 1.5" flexible PVC hose with quick
connects
• Swivel assembly with wheels
• Pump attachment kit
• Blossom fountain head ­– will spray up to 25 feet
• 1 inch flow-control valve – controls fountain spray
height.
• 2 quick connect port covers – remove the arms and
cover the ports so you may use the fountain only. The
arms are out of the way.
• 3 extensions (for fountain head water depth placement
from 21"–67")
• 1 hp Monarch commercial grade lawn (irrigation) pump.
(See "About the Pump" section.)
• Pump mounting base –12" x 16" x ½" HDPE plastic
w/mounting bolts
• Pump wired for 110V or 220V
• 33' of 2" suction hose with quick connects for pump
• 2" check valve
• 40 gallon Big Foot filter with stand
NOTE: Package price may be less depending on the features you are looking for. To find out how to get this great product for less, give us a call! Or learn more at our online store. www.WeedersDigest.com
Dont forget to check out another great solution for getting rid of and preventing Lake Weeds & Muck. Its the Lake Groomer!