Shipping throughout the US & Canada using FedEx, UPS and SpeeDee Delivery
~~~~~~~~~~~~~~~~~~~~~~~~~~~~~~~~~~~~~~~~~~~~~~~~~~~~~~~~~~~~~~~~~~~~~~~
Thank you for visiting The WeedersDigest.com. Here you will find the most innovative lake and pond tools available anywhere.
Scroll down the page to view some of our popular products. If you already know what products you are interested in, please choose from the list below to learn more
What products are you searching for?
Not sure what products are best for you? Let us help!
What are you looking to accomplish?
SIGN UP for the newsletter by clicking HERE
to find more lakeshore products on our online superstore click "order online" below
See all Lake and Pond Products here
~~~~~~~~~~~~~~~~~~~~~~~~~~~~~~~~~~~~~~~~~~~~~~~~~~
The WeedShear - The V Shaped Razor Edged Cutter ( BEST SELLER)
WeedShear *GREAT CHOICE for CUTTING long or short weeds, excellent on lily pads and with some additional work - even cut cattails. Store in a safe place - The WeedShear is Razor Sharp!
Watch Video to see the WeedShear in action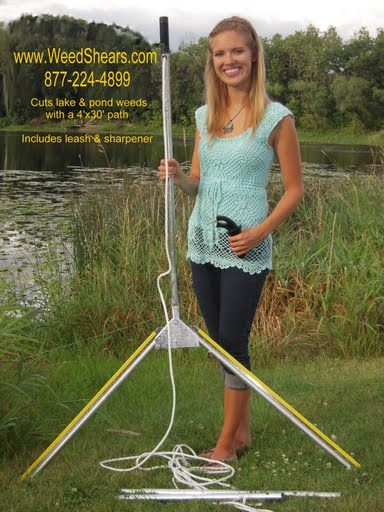 Cuts a 49" path. Includes 25' leash and hand sharpener.
HOW good is The WeedShear? We

Guarantee

it!
If it doesnt work better than any other aquatic hand tool on the market, OR if you are disatisfied with it in anyway, we will give you your money back.
The handle arrives in 3 pieces with a total length of 9'. It
comes with a hand sharpener
to keep the tool effective.
$134.99 (Shipping costs range $8-$16 U.S. Always in stock Always ready to ship the same or next day)
Place your secure order - click here to BUY NOW
Want more Weedshear info? Click here to Learn More
For Cattail Removal. (if you cut the cattails just below the water surface they will not survive - this plant needs oxygen to survive. The WeedShear will cut through cattails but does require some hard work. The AVG and the Lake Mower are the only tools that cut cattails with minimal effort).
~~~~~~~~~~~~~~~~~~~~~~~~~~~~~~~~~
877-224-4899 / 763-551-1441
Skip the chemicals - We arent against chemicals but if you saw our lakeshore you'd see that you can make the perfect swim area without poisons - so why use them? IF you kill em with chemicals, they will fall to the bottom, rot and decay, adding more muck and they will squish betwix your toes and add fuel to algae and weed growth.
Are We Anti-Chemical? No. Chemicals have their place however based on our own excellent results, we are certain that our mechanical tools provide a better result for less money and possibly more important, we are not putting herbicides and chemicals in the specific area that we swim and fish.
Stay on top of the shoreline issues - Dead weeds and debris allowed to collect on the bottom or shoreline begin to pile up and create an overwhelming clean up task. Having the right tools and methods will make this a more workable task.
~~~~~~~~~~~~~~~~~~~~~~~~~~~~~~~~~~~~~~~~~~~~~~~~~~
The ALL NATURAL Sludge & Muck Digester Pellets
- Reduce your Muck Level
muck silt sludge aquacide pellets table
Our ALL NATURAL Sludge and Muck Digester Pellets work on the bottom of your lake or pond, so you won't have to.
LEARN MORE or ORDER PELLETS HERE
All new value-added bacteria pellets, were designed for lagoons, lakes and ponds as a low-maintenance solution for sludge bed and suspended solids removal, water clarity and beach clean-up.
~~~~~~~~~~~~~~~~~~~~~~~~~~~~~~~~~~~~~~~~

877-224-4899 / 763-551-1441