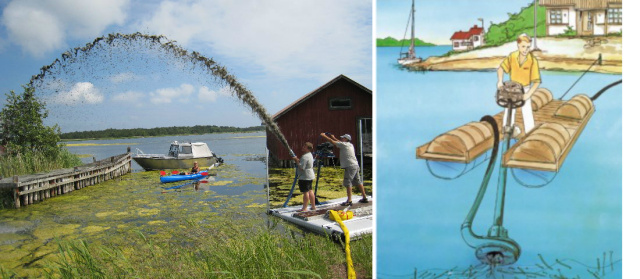 The DYI Dredge from Weeders Digest is a small compact, portable, engine powered,
sediment removal pump
, providing the ability to excavate and transfer mud sand & muck up to 150 m away. Mount the DIY Dredge with it's Cam Lock coupling to your raft or steady boat. You'll want the mount to be something removable, so you can use the boat for other purposes.
Transfer muck up to 150 yards away from where you are removing it from your water system, with this compact, portable engine. The DIY Dredge will excavate and transfer sand or mud away from it's current position.
The dredge comes with a 2.73 yard long shaft, but can be shipped with different length options. Some people purchase shorter until they become more comfortable with the power of this system or for use with very shallow areas.
There is an optional accessory developed to cut the bottom to protect the pump in case of possibly hitting a hard or stony base. You should call our reps if you are interested in this option.
The capacity is 60 cubic meter per hour at full vent, which means about 6 cubic meter of mud per hour at 10% blend. Many argue that the mud portion is much more than 10 %. The nature of your sediment and the distance pumped will affect the capacity. Maximum length we recommend is 150 m, maximum lift height is about 24 m. Stone with a diameter up to 2 cm passes through the pump and larger will not get in, The engine might stop if a stone or something gets stuck in the grinder, but it will not damage the pump. The grinder may dull some, over time, if you pump a lot of sand and gravel through the mill.
SUMMARY
Does not pollute lakes or streams
No damage to the beaches or the bottom, as with an excavator
Dredge down to 2 m deep with the standard pump
Reed roots and mud sucked up and pumped away
The sludge can be pumped up to 150 m depending on lift height and sediment concentration.
Proven design has been used for many years. More than 1200 sold.
Also works well as a fire pump, see photos in the gallery
TECHNICAL INFORMATION
Engine: Briggs & Stratton Professional Series 5 hp (3.8 kW), 4-stroke
Weight about 70 kg
Standard shaft 2.5 m
Ball bearings, oil lubrication, virtually non-wearing mechanical seal
Hose connection 2.5 " (63 mm)
Max lift height 24 m
Max. operating depth is 2 meters (6 feet) with standard shaft (2,5 m), depends also on what raft you are using.
Delivered in a wooden box that is 55 cm * 66 cm * 265 cm and the weight is about 150 kg with pump, hose and couplings.
Please make sure you know the laws in your area, before you start using the pump for dredging.