Best products to kill and get rid of Lake Weeds Muck & Floating Debris issues!
Getting rid of muck, sludge, and floating debris is now fast and easy. Thanks to the Aqua Thruster, this powerful muck blower can provide you with a solution. We have many options to choose from, so no matter your situations we'll have an answer. We can clear 3 inches of muck or 3 feet of muck. Our AquaThruster has proven itself to move that sediment far from the beach leaving you with a wonderful shoreline to use.
We wouldn't put our name on a product that you wouldn't be satisfied or get results with. We are proud to associate the Weeder's Digest name to the Aqua Thruster and personally guarantee it's results for you. Call 877-224-4489 to talk to our lake & pond professionals right now.
Available in ½ hp, ¾ hp, or 1hp
Aqua Thruster's unique ability to be installed in 6 completely different configurations means that this machine can meet the needs of any application, this includes yours!
Mounting Choices:
dock mount
float mount
free-standing
Portable dock post mount
Truss Dock Mount
Oscillator
Watch Video To Learn More About Your Mounting Options
No matter which option you choose for mounting one thing is certain, you will be able to see an immediate positive impact on your waterfront.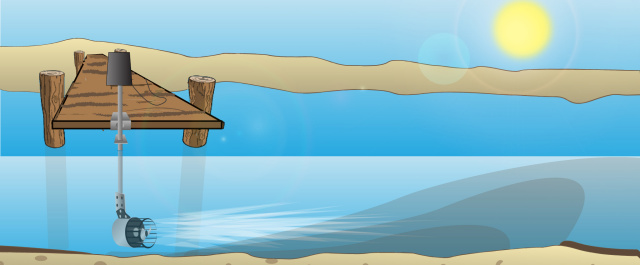 ---
The ALL NEW Lake Groomer
Let the rollers do the work of eliminating your weeds, while you enjoy your beach again!
The rolling action of Lake Groomer will quickly remove any weeds and prevent new weeds & muck from settling down on your beach or growing. Flexible couplers between the rollers allow them to follow the contour of the lake bottom. Position the Lake Groomer wherever you want to control weeds along your beach and swimming area or for improved boat access. The Lake Groomer is the most affordable Aquatic weed prevention machine of its kind!
---
Muck Digester Pellets
Another Eco Friendly Lake Muck & Algae Removal Solution
Our pellets combination of natural technologies is a simple cost-effective method for continuous sludge management.
Biodegradable pellet
Contains sludge-eating bacteria - sludge-eating enzymes and trace minerals
Improves water clarity
Naturally eliminates odor-causing muck on beaches
No gypsum fillers
-All new value-added bacteria pellets, were designed for lagoons, lakes and ponds as a low-maintenance solution for sludge bed and suspended solids removal, water clarity and beach clean-up.
---
The Beach Groomer from Weeders Digest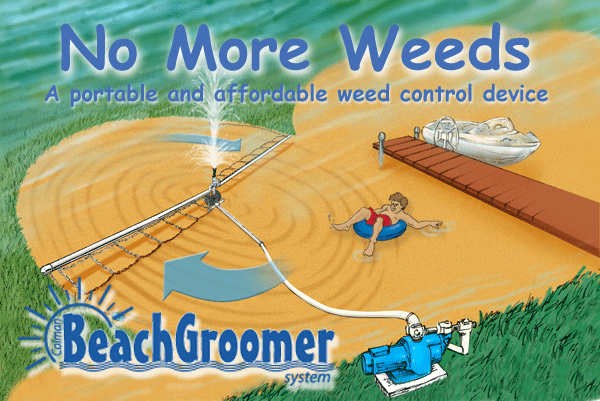 The BeachGroomer is unique from all other weed control devices as it runs off of any Irrigation pump. It is portable and requires no electricity at the water. The BeachGroomer can easily be moved around your lake shore so you can tend to any areas that needs work. The beach Groomer weighs less than 20 pounds. It can be easily wheeled around your entire swimming area and because it comes with 100' of flexible 1 1/2" hose it offers a wide range of mobility. It costs considerably less than other weed control devices that require electricity at the dock where they are mounted for the season.
NOTE: Package price may be less depending on the features you are looking for. If you already own an Irrigation pump you can save hundreds of dollars. To find out how to get this great product for less, give us a call! Or learn more at our online store WEEDERSDIGEST.com